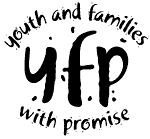 About
For Organizations
For Grand Mentors
For College-Age Mentors
For Youth and Families
What's New
County Information
Friends of YFP

About YFP
The Youth and Families With Promise Program is a two tiered mentoring program for the youth at risk. Utah State University Extension serves as a supervisor and coordinator of the YFP Program. The program is offered as a community program that helps increase the social, emotional, family and educational assets of designated youth, ages 10-14. The overall program goal is to enhance the probability of the youth's chances of success and increase their abilities towards becoming and remaining positive, contributing members in the community.

The program is divided into two parts, one for the youth and one for the parents. the youth program focuses upon developing assets vital for a healthy productive life. College-age mentors are assigned to youth who provide them with positive role-modeling, encouragement, and opportunities for personal and community service.

In addition, mature couples or individuals are assigned to the family to provide encouragement, suggestions where requested, and general parenting support. The program for the parents stresses the parent's relationship and involvement with their youth.

Mike and John