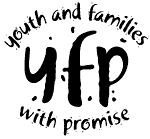 About
For Organizations
For Grand Mentors
For College-Age Mentors
For Youth and Families
What's New
County Information
Friends of YFP

For Organizations
How organizations can use or support the YFP Program.
Encourage employees to volunteer.
Provide incentives for employees to volunteer in mentoring. I.e. give them an hour off work each week to volunteer
Request an employee presentation by USU or the Utah Mentor Network
Donate time, money or resources to the local YFP Progam

Time. Join one of the YFP commities that provide activities, and training.
Money. Help buy supplies for 4-H projects, service projects, and special events.
Resources. Donate other resources that would complement the program such as meeting space, free tickets, school supplies, etc.